Since 1928, Armstrong Air has been the smart choice for homeowners who expect more from their heating and cooling system. Built with durable materials and incorporating brilliant technology throughout, Armstrong Air is not only the brand to trust with your home comfort, it's also the brand more dealers would choose for themselves. From gas, oil and electric furnaces to air conditioners, heat pumps, air handlers and indoor air quality equipment, when you trust Armstrong Air, you're trusting The Professional's Choice.
Products
Armstrong Air's products are currently assembled in a state-of-the-art facility in Orangeburg, South Carolina,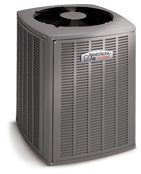 using computer-controlled equipment. Armstrong Air's commitment to quality and efficiency is evident in everything they make, and every product that leaves their facility is 100% run tested before shipping, because they believe in your peace of mind as well as your comfort.
Their manufacturing processes are environmentally friendly, and they do not include any volatile organic compounds in any lubrication or painting process. They use recycled materials when possible, use mostly electric vehicles in their factories, and generate zero wastewater in their manufacturing process. Furthermore, their air conditioners and heat pumps use non-ozone-depleting R410a refrigerant.
Committed to Quality
Armstrong Air is committed to your enduring comfort and efficiency, and equally committed to constant research and improvement. Their headquarters and their research and development facility are located in Lexington County, South Carolina, and include a multi-million-dollar, 40,000-square-foot research space that will allow them to continually improve their products and processes. Armstrong Air's design engineers work with leading-edge tools and technology that help them develop and test their ideas quickly and effectively. Because of this, they are able to take products from concept through approval and into the market quickly, helping them offer continually improved products and replacement parts.
People
Armstrong Air is proof that American manufacturing is alive and well. They're also proof of how effective good people can be. When they say their people are their greatest asset, they aren't just making a feel-good statement. They've based their entire business on hiring talented, dedicated professionals and giving them the resources they need to thrive. The right people can elevate the attitude, ideas, craftsmanship and commitment of any facility, and Armstrong Air is proud to say their employees do so every day. They believe they help them create products that are better for homeowners, and better for the professional dealers who install them every day.
Learn More About Armstrong Air
Learn more about what Armstrong Air has to offer by visiting their website.